Pickleball is one of the most accessible racquet sports that is prevailing all around the globe. This game requires minimal equipment and can be played on various courts, including tennis and badminton courts. But along with all these things, the pickleball game requires the player to wear comfortable shoes for fair gameplay. So, what kind of shoes should you wear for pickleball?
The best shoes for a pickleball game are court shoes or tennis shoes. These shoes provide grip, comfort, and support to the ankle. In addition, these shoes have rubber soles and a tread pattern that provides lateral movements during the game.
It is recommended that the players use shoes that protect them from side-to-side actions during the gameplay. Players can also use eye protection and sweatbands as accessories along with the shoes.
Reason for Using the Appropriate Shoes for Pickleball Game:
Most players think it is not a severe thing to choose comfortable shoes for a pickleball game. However, it is seen that most of the injuries faced during the pickleball game, such as the knee, ankle, and sole injuries, are due to the selection of inappropriate shoes.
Therefore, it is necessary to invest in selecting the right shoes for you.
The proper footwear provides excellent positioning and mobility during the pickleball game. In addition, the right pair of shoes boost the confidence in the player that impacts our game.
Factors for Choosing the Right Shoes: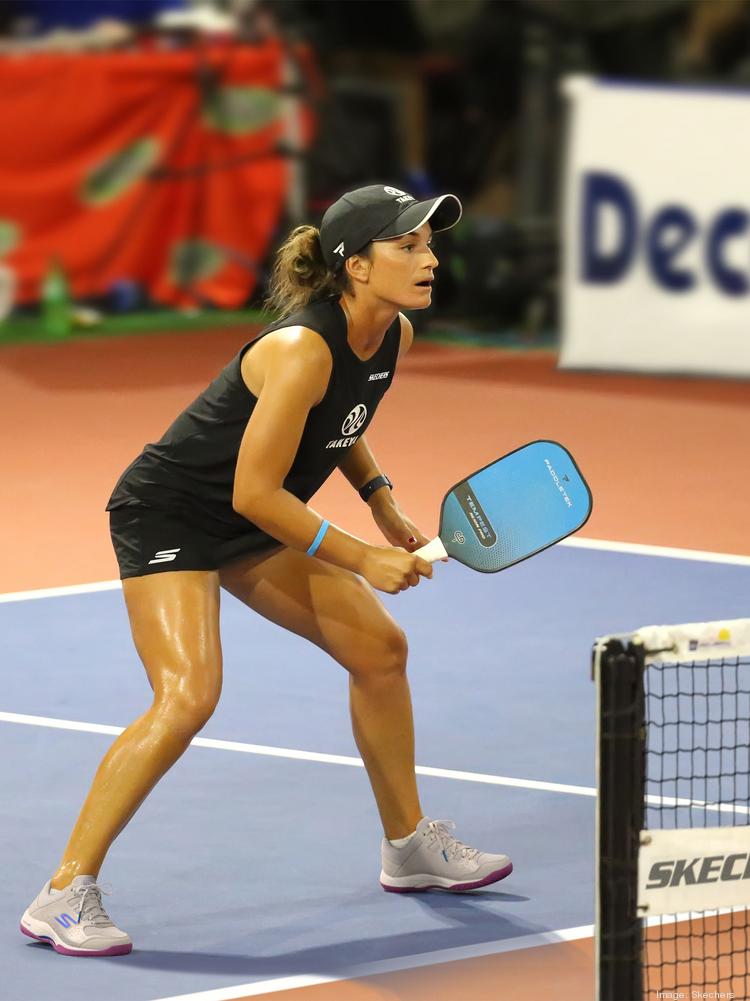 Here we will discuss two factors that influence the choice of the players for pickleball shoes. The two factors are:
1. The Surface of the Court:
Court surface affects the type of footwear that is required for playing the pickleball game. Pickleball can be played on indoor surfaces like school gyms and tennis courts and in the outside environment.
2. Movements in the Game:
Lateral moves are the standard movements in pickleball that matter greatly during the whole pickleball game.
Other than this, forward and backward directions are also implemented, but lateral moves come on a priority basis. The right pair of shoes are helpful for this scenario and protect during the movements.
Recommended Picks for Pickleball Footwear:
The common recommendations for pickleball footwear are:
Court Shoes:
These types of shoes are best for playing indoor sports, especially on wooden surface areas like badminton and racquetball. These shoes are an excellent option for the ones that are looking for indoor games. 
Court shoes provide protection and stability and can be helpful for the players playing pickleball on a wooden surface.
Some of the main features of this type of shoe are:
These shoes have a flat and rubber sole that reduces sliding

It offers little treading

These shoes offer lateral movement during the play

These shoes provide excellent traction on the wooden floors and allow side-to-side movement

This shoe offers to bend at the toe box location instead of a middle bend

Court shoes are light in weight and are cheap than tennis shoes
Tennis Shoes:
Tennis shoes are typically made for outdoor games and are a reliable form of shoes. These shoes are made to play on the tennis surface and for the pickleball game. Some of the best features of this game are:
Tennis shoes are reliable and robust shoes

These shoes are bulky on all the sides shoes

Tennis shoes are heavy than the other ones

These shoes are incredibly durable and are tough

Tennis shoes allow bending near the toe and own a flat toe

These shoes have no rubber and offer stability from all sides
Shoes to Avoid During Pickleball Game:
Most of the players who are a beginner in the pickleball game start their career by using running shoes. These shoes are primarily available at everyone's home and are convenient. But there are various chances of injuries with these shoes.
Running shoes are specified for the front and backward movements. It is recommended to avoid the following types of shoes if you want to reduce the risk of enjoying the pickleball game.
Running shoes

Hiking boots

Open shoes

Trail-running shoes

Flip flops
Can I Wear Running Shoes to Play Pickleball?
Top-Notch Pickleball Shoes for Men:
1. K-Swiss Men's Light Pickleball Shoe:
There are few shoes available on the market that are specifically designed for the pickleball game. Among these, K-Swiss Light pickleball shoe is the one made for men that they should consider this one.
It has an EVA-supported foam inside its midsole that provides a high level of comfort and extends the shoe's durability. The outsole of this shoe is also durable and consists of a rubber compound containing a herringbone grip.
The upper part of the shoe protects the person from toe-dragging. In addition, these shoes are highly breathable and have an open-cell structure with foam that keeps the moisture away from the feet, and players feel cool and dry during the game.
| | |
| --- | --- |
| | |
| | |
| | |
| | |
| | Black, Navy, Brilliant blue-black, White and barely blue, Strong blue, Neon citron |
| | |
| | |
| --- | --- |
| | |
| This pickleball shoe is available in multiple colors | The sizes available in this shoe are confined and are little small |
| This shoe has a dura-wrap in it that protects from toe-dragging | It has no removable in-soles |
| This show is highly breathable | |
2. Asics Gel-Challenger Men's Shoe for Sports:
This Gel-challenger shoe is one of the best Asics shoes with a midsole material. As a result, it is lighter in weight than other standard Asics EVA and SpEVA mid-soles.
This shoe offers excellent cushioning and has comfortable rearfoot and forefoot. These forefeet have GEL-based technology of cushioning, and the insole is removable.
The other features of this shoe include the enhancement of the grip that prevents over-twisting and avoids sudden injuries. In addition, it has an outsole that mitigates wear and tear.
| | |
| --- | --- |
| | |
| | |
| | |
| | |
| | White, silver, Cherry tomato, Mako blue, Gun-Metal, White and pea-coat |
| | |
| | |
| --- | --- |
| | |
| This shoe is available in multiple colors | |
| This shoe is light in weight and has a Solyte midsole | |
| This shoe are comfortable to wear | |
| The insole of this shoe is removable | |
3. Nike Court Lite Men's Shoe:
The court Men's shoes by Nike are explicitly designed for hard courts, having the feature of EVA midsole and rubber-based outsole. These are comfortable shoes that provide plenty of support.
There are five specific patterns on the outsole, with five basic movements that players can master. There is also an option of adding of insole if it does not fit you.
| | |
| --- | --- |
| | |
| | Pickleball and tennis shoes |
| | |
| | White color, black, university gold |
| | |
| | |
| --- | --- |
| | |
| These shoes are available in multiple colors | They are not particularly comfortable for everyone |
| There are excellent reviews of these shoes with happy customers | They have poor arch support |
Top-Notch Pickleball Shoes for Women:
1. Asics Sky Elite Court Shoes for Women:
Sky elite includes one of the most advanced ranges of women's shoes in the form of Asics. These shoes have technology that helps a person stabilize their foot and prevents excessive twisting.
Standard gel technology in the shoes keeps the rear foot at its position and is helpful when a player lands from smashes.
The common feature is the presence of FluidRide technology in the midsole. A mixture of Solyte and SpEVA makes the midsole lightweight and spongy. There is a choice of removal of the insole in the shoe too.
| | |
| --- | --- |
| | |
| | |
| | |
| | |
| | White, pure silver, electric blue, laser pink, frosted almond |
| | |
| | |
| --- | --- |
| | |
| It is available in multiple colors | It is much expensive than other brands |
| This shoe is light in weight and has spongy midsole | It is a little narrow at the ends |
| This shoe is comfortable in wearing and has a removable insole | |
2. Asics Women's Gel-Game Shoes:
The gel-game 8 technology in this shoe allows maximum breathability and flexibility. It has an open mesh design that keeps your feet cool and dry. There is a synthetic layer on the shoe that overlays it and has a polyurethane film that enhances firmness while making quick movements.
The gel support in these shoes keeps the person comfortable and prevents toe twisting.
| | |
| --- | --- |
| | |
| | |
| | |
| | |
| | White, Light indigo, black, blazing coral, peacoat, pure silver, pink cameo |
| | |
| | |
| --- | --- |
| | |
| These shoes are highly breathable | There is no mention with thee shoes that either their sole is removable or not |
| These shoes are available in multiple colors | |
| These shoes are comfortable to wear | |
Tips to Consider While Purchasing the Pickleball Shoes:
You can research well for the brand and type of shoe before purchasing it. You can check out the reviews and comments in case of online purchases.

You can ask the other pickleball players about the type of shoes they prefer and why.

Determine your choice before purchasing the shoe. You can check the top layer having the fabric mesh or leather covering as it impacts the comfort and breathability nature.

Check out the shoes having adequate ankle and arch support.

Select the pickleball shoes that associate well with the court surface. Indoor courts are slippery, while outdoor courts allow the soles to wear down more quickly.

Select the shoes according to your playing style. Look for shoes that provide more lateral support or cushioned toecaps.

Look for a light-weighted shoe that does not weigh downs on the court.

Check for the comfort level in the pickleball shoe and consider the gel-based insole. You can also look for the shoe with a thick sole as it minimizes the impact on the court.

Keep track of the purchase of the shoes as it will make it easy the purchasing new shoes in the future.
Also Read:
Frequently Asked Questions (FAQs):
Does a player require a particular type of shoes for playing pickleball?
Pickleball game requires lateral movements as well as lunging forward and backward directions. Therefore, a player cannot play this game with their traditional running or athletic shoes as they are confined to a straight line movement. Pickleball shoes help stabilize the foot in different directions.
What sort of shoes are required for pickleball?
The best shoes for pickleball games are court shoes and tennis shoes. These shoes offer outstanding comfort, grip, and support ankle. In addition, these shoes own rubber soles and a tread pattern that offers quick lateral movements.
Can a pickleball player wear regular sneakers during the pickleball game?
Yes, regular sneakers are a type of tennis shoe ideal for the pickleball game. Tennis shoes are an excellent start for pickleball players who are beginners in this game.
Can a player use running shoes for playing pickleball games?
Running shoes are not recommended for pickleball games as they are designed for multi-directional movement. Instead, court shoes are recommended as they can minimize the risk of injuries. They are also great concerning the overall performance on the pickleball court.
What is the difference between indoor and outdoor pickleball shoes?
Indoor pickleball shoes can be played on hardwood surfaces like pickleball courts, badminton, and volleyball courts. On the other hand, outdoor shoes are designed for playing on rugged and rough surfaces like tennis courts and pickleball courts.
Which kind of shoes are called court shoes?
Court shoes are designed for playing on tennis and pickleball courts. Running shoes are not intended for such a game as they put more emphasis on cushioning the foot. Court shoes focus on providing lateral support and stability during the game.
Can pickleball be played in basketball shoes?
Basketball shoes offer maximum balance, help the feet feel secure, and provide stability. Basketball shoes are suitable for pickleball games as basketball game involves a lot of jumping, forward and backward moves, and sideways movements.
Is there any difference between pickleball shoes and tennis shoes?
Pickleball shoes are heavy and sturdy in weight, providing cushioning to feet and preventing shock absorption on a hard surface. In addition, these shoes have a unique tread pattern at the bottom, offering excellent traction.
Is there a lot of running required in a pickleball game?
Less running is required in pickleball games, especially in the doubles category. It is easy to work on sweat during the play, and according to an estimate, 500-600 calories are burned in each go while playing a doubles pickleball match.
How long does a good pair of pickleball shoes last?
A good quality pickleball shoe can last for months if handled with great care. In addition, dense rubber and stiff sole on such shoes increase their maintenance quality.
I am Suryashankar, a passionate pickleball player with over 3 years of experience. I created this website to share my knowledge and experience with others just starting or looking to improve their game.
My mission is to provide you with the most unbiased and comprehensive information about pickleball.
Through my experience and expertise, I have curated this article to offer valuable insights, tips, and tricks to help you become a better player.